Checks to make before purchasing a second-hand car
When you buy a pre-owned car, it's important to carry out a number of checks so you know all you need to about your new set of wheels.
According to research carried out by Ocean loans, one third of second-hand car owners in the UK didn't carry out any checks before purchasing their pre-owned car.
With this in mind, it's perhaps not a surprise that one in five second-hand car buyers admitted they had experienced a problem with their vehicle within 12 months of buying it.
To reduce your chances of incurring unwanted issues with your wheels, here are some helpful tips to bear in mind when you're out car hunting.
If you're purchasing your pre-owned car from a private seller, the most important check you can conduct is an online HPI check – or something similar. This will let you know if there's any outstanding finance on the car, if it's been reported stolen, if it's been in an insurance write-off and even the number of previous owners. You might even be able to confirm the vehicle's mileage. This is vital – if you buy a car that's stolen, for example, you may end up losing both the car and the money you've paid for it.
Exterior check-list
Windscreen – check for any chips or scratches as these could lead to bigger problems in the future if they expand. If there's a chip or crack exceeding 10mm in the line of vision on the driver's side of the vehicle, the car might even fail its MOT. The maximum damage size for any other area of the windscreen within reach of the wipers is 40mm.
Wipers – test them to make sure they are in good working order.
Doors and boot – check that all of the car's doors open and close without any difficulty.
Body work – scrutinise the car for any scratches, dents or discolouration. With second-hand cars, some wear and tear can be expected, but make sure it's no more than is advertised and that you'd expect for a car of that age and mileage.
Rust – the most common areas to spot rust are the car's wheel arches, bumpers and window frames – be sure to do a comprehensive check of the whole car too, though.
Panels – check they all fit okay and that the gaps are even. If they're not, it could mean the car's been in an accident.
Spare tyre – having a spare tyre is a legal requirement – make sure there is one present and that it has road-legal tread (see below).
Suspension – push down on each corner of the car. If it doesn't easily return to its normal height, there could be a problem with the suspension.
Tyre tread and wear – the legal minimum is 1.6mm. If the tyre tread is almost worn down to this limit, keep in mind that they'll need replacing soon. Also, check the tyres are evenly worn. If they're not, there could be a problem with the car's suspension or tracking alignment.
Locks – ensure all of the locks work okay. If they don't, or are showing any sign of faults, this will be an expensive job.
Fuel cap – check it opens and closes okay. Also, check for rust around its circumference as petrol or diesel residue can cause it to corrode.
Lights – conduct a manual check to ensure the headlights, rear lights, stop lights, indicator and hazard lights all work.

Vehicle Identification Number – this can be found under the bonnet, under the carpet on the driver's side or on a metal strip at the foot of the windscreen. Check there's no sign of any tampering, that the numbers all agree and that they tally with the number on the car's registration certificate – and on the HPI check (if you've done one).
Mileage – check the dashboard and make sure the mileage is as advertised – and agrees with the HPI check. Then confirm that the condition of the interior tallies with the mileage. For example if the recorded mileage is 30,000 but the seat fabric is worn through and the steering wheel rubbed smooth you should smell a rat.
Electricals – check all electrical appliances, such as windows, heating, air-con, radio and clock are fully functional.
Functionality – get in the car and have a test to see if things such as adjustable seats and child locks are in working order.
Dashboard – make sure no warning lights remain on once the car is running. If they do, investigate what the issues are and what'll need to be done to resolve them.
Test drive
Always test drive the car before you consider purchasing it, as this may uncover faults that aren't evident when the vehicle is stationary.
Clutch – while driving, pay attention to how the clutch feels. If you have to let your clutch out most of the way or if it takes a while before it catches gear, the clutch could be worn. Other signs of a dodgy clutch include: troubles shifting, burning smells and visible damage.
Brakes – ask yourself the following questions while out test driving: do the brakes make a grinding or squealing noise? Does the steering wheel shake when you brake? Does the car pull to one side when braking? Does the vehicle take longer than expected to come to a halt? Does the brake pedal pulsate when you stop in a normal situation? If the answer to any is yes, it's recommended you get them checked.
Exhaust – listen out for any unusual noises, such as hissing, roaring or rattling, and check for any rusting or cracks around the seams and joins of the exhaust.
Steering – is there any slack or play in the steering? Do you have to "saw" the wheel back and forth to travel in a straight line? If you carefully loosen your grip on the wheel does the card track straight ahead, or pull to one side?
Engine – does the car start first time? Is the exhaust smoking or unusually smelly? Listen carefully for any unusual noises when you drive and rev the engine and different speeds.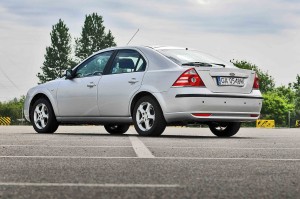 The following two tabs change content below.